Did you know that 64% researches a company after reading a vacancy? Your online reputation and Employer Brand plays an important part in the application process. As an organisation, you have more impact on this than you might think.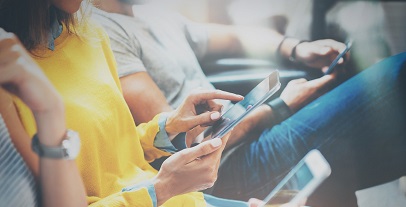 Have you ever searched for your organisation on Google? Protecting your online reputation is nothing new, but take an objective look at the results through the eyes of an applicant. On which review platforms are they looking for information about your company? How do you come across on social media? Would you want to work for your organisation based on what you could find online? If the your answer is no, there's work to be done!
Recruitment and marketing
First, someone must be appointed to work on and monitor the online reputation. It is wise to involve recruitment and marketing in this. You want to an organic online reputation by having good Candidate Experiences. You don't want to encounter negative messages about your organisation on social media or review platforms of candidates who had a bad experience during application process. Not a good look of your company for potential candidates. Recruitment has to be on top of this. Next to that, you want potential candidates to be excited about your organisation and you want to show that you're an attractive employer. This is where marketing plays an important role.
Employees are your ambassadors
Who would make a better ambassador then your own colleagues? Your employees have a relevant network and a commitment to your organisation. Next to that, there message is more credible. Some guidance would be advisable. Make it is as accessible as possible for your employees to act as an ambassador and make sure that it's also interesting for them. For example, make sure that if you ask them to share content that it's also an added value to their professional status. Let's make it interesting for both parties!
Review platforms
Can you find your organisation on Glassdoor? Next to posting a vacancy on Glassdoor, it offers also to possibility to leave an anonymous review about an organisation. Glassdoor scores high in the Google ranking, so the chance that a potential candidate will find your organisation on this platform is big. Your score and reviews can be an advantage or disadvantage. Activate your employees to write a review of your organisation, this way you will not only have reviews of leaving or ex-employees on it.
Make sure that your Candidate Experience is on point
9% of the candidates who don't hear anything back from the organisation where they applied or had a bad experience during the application process, ask others to boycott the company and don't use their products and/or services. The last thing you want, is finding reviews online where people lash out about your organisation. Reading that someone haven't heard anything back after they applied twice, is not motivating other candidates to apply at your organisation. Saying 'no' is just as important as saying 'yes'. The person that doesn't fit the role at this moment, could be the perfect candidate in 2 years. Plus, it doesn't damage your online reputation.
The Employer Brand and Candidate Experience are the core of your online reputation for potential candidates. Do you need help with establishing your brandstrategy and an Employee Value Proposition (EVP)? Yoores would like to help to strengthen your employer position!
Esmeralda Tan-A-Kiam
Talent Acquisition & Recruitment Marketing Specialist



Yoores Recruitment Solutions
Empower your recruitment